Digital Opportunities
The MWC exhibitor base has learned over recent years that a truly comprehensive event marketing plan needs to blend physical and digital opportunities to create a hybrid approach.
By combining content, networking and product showcases with a full suite of digital products, we will leverage the power of our mobile and web platforms and online channels to offer new tools and opportunities for companies to extend their reach.
It is mandatory for all attendees of MWC Las Vegas to download the official app to gain access to the event.
At MWC Barcelona 2023:
33 of the top 50 most visited exhibitor profiles secured a digital product
Standard Profile
By default, all exhibitors with their own stand at MWC will receive a listing on the exhibitor list on the website and within the event app.
This will offer basic information to allow exhibitors to find your stand.
Includes:
Profile/Description (100 words)
Stand Location
Company contact detail (phone, website and email)
Ability to request a meeting (via email)
Company interests/categories/industry sectors
ENHANCED PRODUCTS INCLUDE:
Level 1: Enhanced Profile - $1,500
Maximize the amount of information provided to your new and existing business partners, both pre-event and onsite, driving more interest and traffic to your company profile and stand.
Through increased branding, mapping, product information and networking functionality, you will stand out from your competitors and enhance your ROI at MWC Las Vegas.
Includes:
All Standard Profile features, plus:
Static company logo included in multiple locations:

Website exhibitor list
Event app exhibitor list
Company profile
Floorplan

Showcase up to four products with images and descriptions
Post up to six downloadable assets such as whitepapers, case studies and presentations
Company social media links in exhibitor profile
1- Social Media Links

2 - Downloadable assets

3 - Showcase Products






Level 2: Promoted Exhibitor - $3,500
Support your Enhanced Profile with promoting your company logo onto the app home screen and the featured exhibitors list across the MWC website. Expand your coverage by directing users to your website with these click-through high visibility logos. By driving attendees directly to your company website or other specified URL, you can benefit from a higher level of engagement with attendees that is sure to drive larger numbers of attendees to your exhibition stand.
Includes:
All Level 1 Enhanced Profile features, plus:
Rotating logo placed on mobile app and MWC website home screen
Detailed ROI reporting post-event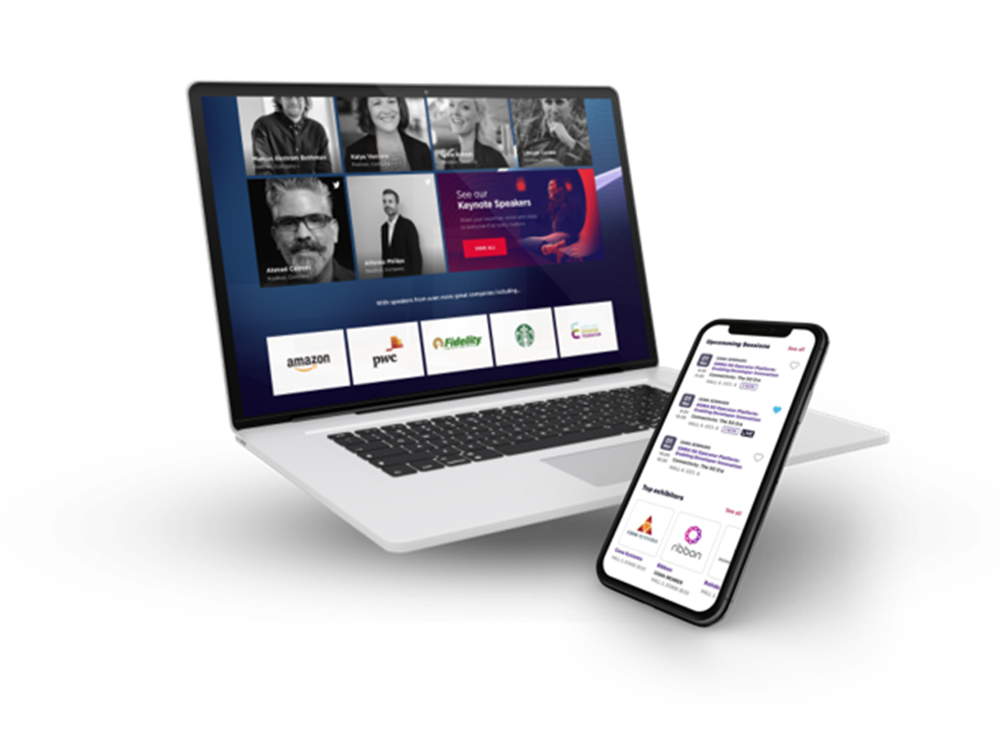 Level 3: Personalised Content - $12,000 (Max 8 available)
Benefit from your brand's presence in the most prominent areas while customizing content that allow attendees to be exposed to your products, research, media content, and much more ensuring your MWC Las Vegas experience attracts the highest levels of awareness and targeted foot traffic.
Includes:
All Level 1 Enhanced Profile features
All Level 2 Promoted Exhibitor features, plus:
Top slot positioning in the exhibitor list
Priority of rotating logo positioning in all locations
Profile placed on the side bar menu of exhibitor landing page for heightened awareness
Customised content including

Up to 20 downloadable assets
Host your own content programme agenda
Customisable profile background colour
At MWC Barcelona 2023:
All Level 3 exhibitors were in the top 10 most visited profiles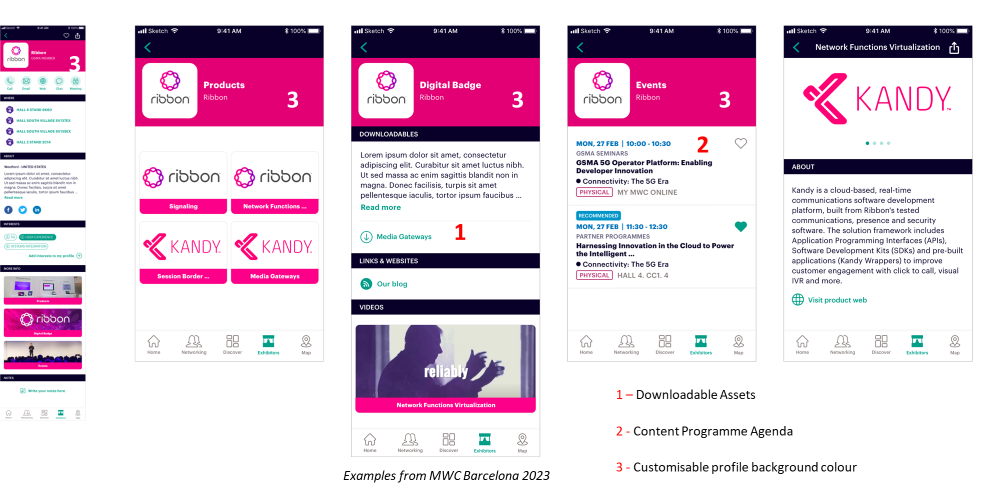 MWC App Headline Sponsor - $35,000
This opportunity offers maximum exposure in front of the tens of thousands of app users. With a fixed position on the MWC App landing page, your brand is easily accessible and elevated above all other exhibitors and sponsors!
With all of the benefits of Level 1, 2 & 3 profile enhancements, you have unrivalled ability within the app to promote your brand and share content on your profile
Includes:
All Level 1 Enhanced Profile features
All Level 2 Promoted Exhibitor features
All Level 3 Personalised Content features
Plus, fixed position on the MWC APP home page with a link to your organisation!

Daily Welcome & Digital Access Pass Sponsor - $50,000 (1 available)
Daily Welcome Screen
This screen will appear to all App users with a pass before accessing the Digital Access Pass, which is required for daily access.
The new screen offers the client:
Daily welcome message
Company logo
Each day, the logo and the message can be changed
Enabled from the weekend before until the end of the event
Digital Access Pass
Logo included in the Digital Access Pass
The design shown here is an example and might change from the final layout.