Sponsorship Opportunities
We've produced three videos on the key objectives facing most exhibitors and sponsors at MWC:
Learn more about what opportunities exist for you to widen your reach or to have a laser focus on your ideal prospects at a busy event like MWC.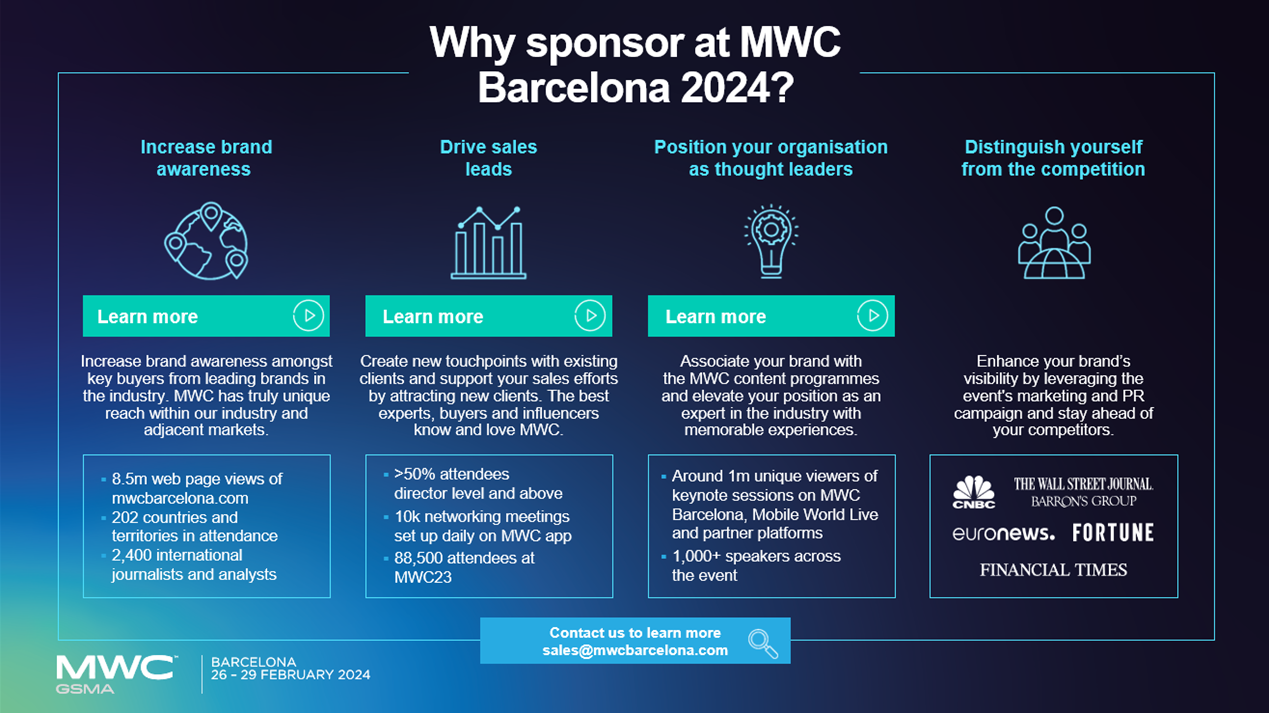 Meeting Services
At a giant and diverse event like MWC, making sure you reach the right decision makers is more important than ever before. Our new concierge meeting services can ensure you maximise your time and return on investment at the event and make meaningful connections.
We offer an end-to-end solution via a dedicated team who excel in qualifying and arranging meetings with your ideal target executives, allowing you to make the connections that matter effortless.
If time is money, then spending it in the company of the right people is an investment and partnering with us on the concierge meeting services helps you to extract further value from your existing activities.

Broadcast Studio
Found in front of the keynote stage on the main showfloor in Hall 4, this is an open stage hosting an intimate TV-style studio designed to host live-streamed coverage of the MWC conference and exciting footage from the wider show floor.
You have the opportunity to run your own 30 minute session on stage and, as the home of Mobile World Live TV, you can reach a global online audience whilst aligning with the world-leading MWC conference agenda, senior-level interviews and top content.
You are left with a high-quality marketing asset for use in future campaigns. This truly delivers amongst the best hybrid speaking opportunities of its class.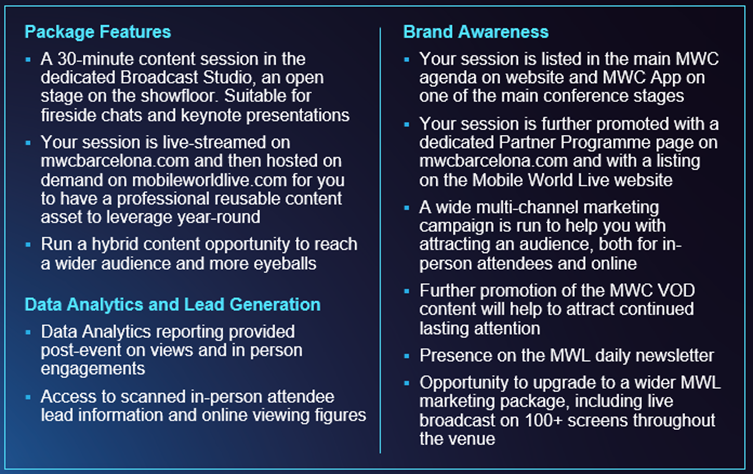 Discuss with Us!
Many more opportunities exist and your MWC Account Manager is waiting to speak with you to understand your objectives and propose suitable solutions. If you aren't sure who to speak with, please reach out to us at
sales@mwcbarcelona.com
to begin looking at these opportunities.
Further Opportunities
The full sponsorship opportunities deck includes a wide range of options to deliver branding, leads and thought leadership.
Click here
to view the full document and speak to your Account Manager or reach us at
sales@mwcbarcelona.com
to discuss in more detail.